CDC Guidelines for Refrigerated Products
December 2017 - Vol. 6 No. 10
- Page #20
Article Categories:
In the event that refrigeration storage conditions are compromised, measures ensuring a swift response can prevent the loss of valuable reagents and patient samples. It is imperative to create a written Emergency Refrigeration Storage Plan that details the response steps in the event of an emergency, such as a unit malfunction, a power failure, or a natural disaster. The written plan should be reviewed with all relevant laboratory staff (including security and custodial staff), stored in an easily accessible location near the refrigeration units, and updated annually.
From the CDC's Self-Assessment Checklist for Good Testing Practices*
The following points are a sampling of the many Good Testing practices that should be incorporated into daily laboratory operations. These relate primarily to the storage and management of reagents.
Do you check and record temperatures of the testing and reagent storage areas daily?
Do you store all reagents and media as recommended by the manufacturer?
Do you document expiration dates of reagents/kits and discard any reagents or tests that have expired?
Do you inspect reagents for damage, discoloration, or contamination and discard if found?
Do you allow time for refrigerated reagents/samples to come to room temperature prior to testing if required by manufacturer instructions?
Do you check inventory regularly to ensure you will have enough reagents and supplies on hand for testing?
Do you ensure that reagents from different lot numbers are not mixed together?
*Available at: https://wwwn.cdc.gov/clia/Resources/WaivedTests/pdf/FINAL_Self-Assessment%20Checklist%20for%20Good%20Testing%20Practices.pdf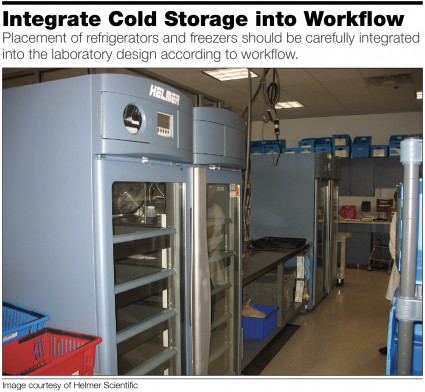 Create a Moving Plan
Each unit that stores refrigerated items must have a moving plan ascribed to it for both refrigerated and frozen items. Thus, it makes sense to apply a moving plan to every refrigeration unit containing refrigerated products in your facility. Keep on hand sufficiently qualified, insulated containers; packing materials (eg, bubble wrap); and coolant packs to transport the maximum amount of inventory stored in each unit.
Furthermore, include the source for these materials and attendant contact information in the written plan. Provide calibrated temperature monitoring devices to accompany each container during the move, as documenting temperature maintenance throughout the entire transport process is imperative. Consider purchasing portable refrigerators and freezers to ensure cold chain maintenance throughout transport, depending on the level of the emergency.
In the event of a wide-scale emergency that requires packing and transporting refrigerated products to a separate location, additional staff may be required. The laboratory director or product coordinator should pre-designate appropriate staff members and include their contact information in an Emergency Resources Contacts List. A transport policy and procedure (P&P) should be written identifying the vehicles and drivers that will be used. It is important to note that refrigerated products should never be transported in a car trunk, given the extreme temperature fluctuations therein.
The secondary location also should be established in advance. Consider other hospitals, blood banks, clinics, physician office labs, independent labs, or first responder departments that have a back-up generator. Map primary and alternate routes to the location and plan for 24-hour access.
Short-Term Power Outage
In the event of a temporary refrigerator malfunction or short-term power loss (ie, less than 2 hours), and assuming the room temperature is not extreme, there are water bottles in the refrigerator, and coolant packs in the freezer, the temperature inside a medical-grade refrigerator should be maintained as long as the door remains closed. In such an event, tape off the unit, provide signage, and notify staff members not to open it. Once power is restored, check the temperature readings to determine if the unit went out of range. At this point, the value of a monitoring device that provides temperature readings without needing to open the unit door becomes immediately apparent.
Refrigerator Placement
Given the dollar value of reagents and the inherent value of patient samples, the placement of laboratory refrigerators, as well as the contents within refrigerators and freezers, should not be an afterthought. Rather, the location of refrigerators and freezers should be carefully integrated into the laboratory design, not only to ensure ease of access and good workflow, but also to extend equipment life. Refrigerators should be placed at least 4 inches from the wall, and there should be no obstruction of the unit's motor compartment. Likewise, refrigerators should be a minimum of 1-2 inches above the floor.
When purchasing a new unit, plan to run it for one week while taking temperature readings at least twice per workday. The morning temperature readings should include both the minimum and maximum temperature within the unit. Only when the effectiveness of the unit has been established with a week's worth of temperature readings should product be transferred in.
Water bottles (and coolant packs for freezers) can be used to help maintain stable temperatures in a partially filled refrigerator. Water bottles serve a dual purpose as they can be placed in the areas of the refrigerator where a temperature excursion is most likely to occur (eg, on door racks, the top shelf) in order to keep these areas from being used for product storage.
Conclusion
Although some of these tips may exceed CLIA requirements for waived testing, following good testing practices is integral to reliable, high quality test results and will enhance patient safety.
---
David McCormick is managing editor of MedicalLab Management magazine.
Like what you've read? Please log in or create a free account to enjoy more of what www.medlabmag.com has to offer.
WHERE TO FIND: Refrigeration/Freezers
Current Issue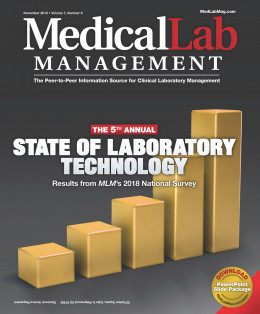 Subscribe to our Email Newsletters!
In The Loop!
Digital Edition
Special Announcements