Data Analytics Tools for Test Utilization Management
December 2017 - Vol. 6 No. 10
- Page #24
There is important and timely work being done by many clinical laboratories in the area of test utilization management (ie, laboratory stewardship) focusing primarily on the critical role of data collection and analysis in the selection of appropriate interventions and improvement projects. Utilizing software tools designed to provide near real-time data in a flexible and powerful format can guide laboratory directors toward utilization management improvement opportunities for tests and ordering providers.
To read the full article, please log in or register.
Current Issue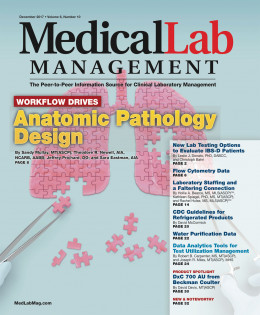 Subscribe to our Email Newsletters!
In The Loop!
Digital Edition
Special Announcements