Overcome Staffing Challenges with Creativity and Fearlessness
March 2018 - Vol. 7 No. 2
- Page #18
Article Category:
In the fast-paced, resource-limited medical laboratory setting, the now ubiquitous adage, "do more with less," has run rampant, but some may question whether this is really a safe and reliable business model, especially in a health care setting. Certainly, as a clinical laboratory professional, the last thing we want to do is cut corners or sacrifice quality for quantity. As a manager and leader in the clinical laboratory setting, you will be faced at some point, if not already, with the unfortunate and challenging task of balancing customer demands with limited resources in a safe and feasible manner. This will likely include exploring alternate and creative options, or resorting to drastic change in the work place just to stay afloat.
Faced with staffing cuts, a lack of experienced staff members to cover necessary tasks, limited funding options, and construction barriers, we found simply doing the same with less was a true challenge. However, the application of creative problem solving combined with workflow change can ease the pain. Our route was to endeavor a complete overhaul of the clinical laboratory central operations department, which includes patient check-in, phlebotomy, and product shipping. We determined that inefficiencies in the central lab were due to more than just a staffing gap, requiring management to take a closer look and determine that dramatic change was necessary.
Map Current Workflow to Identify Problem Points
To begin to identify the scope of the problem, we required a full understanding of the situation and structure (see FIGURE 1). The Central Operations department staffs three phlebotomists and six technicians responsible for checking in patients who report to the laboratory for blood work or other tests, collecting blood samples, and processing reference samples for shipment. In addition to the permanent staff members, Central Operations employs two to four students on average, who are completing clinical rotations for phlebotomy and working under a preceptor (one of the permanent staff).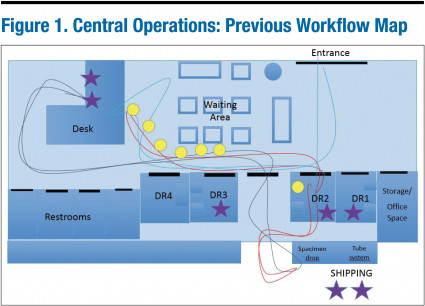 The department supports outpatient hours, opening at 7:00am and closing at 4:30pm, Monday through Friday. Staff members also are responsible for rotating to cover the ward round collections at 5:00pm for inpatients, seven days a week.
The workflow structure was set up so that a patient line would form from the front desk, often extending through the phlebotomist traffic area to and from the blood draw rooms. Due to difficult orders, lack of orders, or other customer service issues, a bottleneck would form at the check-in procedure stage, with the phlebotomist waiting for patient folders to be ready before calling them back to their drawing room. One to two staff members typically operated the four phlebotomy drawing rooms until 2:00pm, at which point the two staff members who began work on the early shift would leave. As the front desk and specimen shipping departments were not co-located, those both would ideally have two staff members assigned to each area as well. FIGURE 1 denotes a typical afternoon staffing situation and outlines the common traffic pathways for patients and staff members in a spaghetti map format.
Identify and Clearly Convey Workflow Problems
The previous Central Operations workflow, though not ideal, was functional due to the significant work experience of our staff at the time. However, problems intensified with the loss of six of the nine full-time personnel (comprising approximately 30 years of laboratory experience) for various reasons within a six-month period and only receiving three replacements (with less than six years total experience combined). Unfortunately, this significant turnover in personnel was not forecasted in a timely manner.
Given the estimated 12-month time frame necessary to train new employees and recoup to full staffing and the fear of not being able to sustain operations with such a steep decline in physical staff numbers and representational experience, laboratory management reached out to executive leadership to review any and all options available to ease the transition period.
The expectation from internal and external customers was that operations and services would continue seamlessly regardless of our staffing situation. Walk-in hours were expected to remain unchanged, wait times minimally affected, and ward round collections were to remain the same, all despite rigid scheduling flexibility with existing staff due to contract constraints. We knew alleviating these problems would require a creative and wide-ranging solution.
There Is a Solution
Due to the complexities of our situation, a complex solution required a few months to actually define, sell, and implement. At its core, Central Operations would have to undergo a complete process overhaul for patient flow and staff responsibilities with the goal of transitioning into a one-stop-shop atmosphere. The existing department layout was not conducive to flexing schedules and allowing personnel to cover multiple areas without sacrificing one function for another (ie, leaving the front desk, a drawing room, or the shipping department unstaffed). Thus, a new plan and workflow was designed that eliminated the front desk, implemented a numbered check-in system, and combined check-in and phlebotomy functions in one room under the supervision of one staff member.
In order to implement the plan, computers had to be installed in each drawing room with label printers located nearby for convenience. The new plan was intended to not only mitigate the insufficient staffing problem, but also improve staff competency in multiple functions and optimize staffing flexibility. Under the previous workflow, the phlebotomist only collected blood and the front desk assignee only performed administrative functions, even though all were qualified to perform both tasks.
FIGURE 2 illustrates the new Central Operations process and flow. Not only did it create a better, more orderly service for patients by allowing them to take a number and immediately have a seat, eliminating traffic flow issues, it also cut the number of process steps in half by moving all phlebotomy functions in to the drawing rooms with the specimen drop also placed nearby. Finally, one staff member was assigned to float between the phlebotomy and shipping areas to provide assistance dependent upon patient and workload patterns.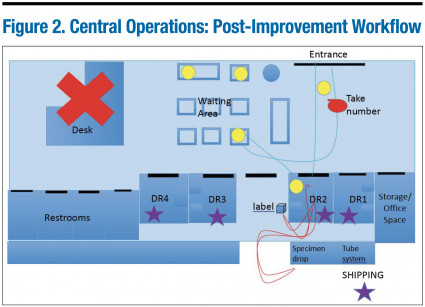 Initiating Lasting Change
In order to implement the solution, we went through what we referred to as the ABCs of Change.
• A - Assess & Address: Determine the resources needed to implement the plan and address any management or staff concerns. Fortunately, we did not need many resources to implement the change, but concerns were high. Even though it was obvious we could not continue to operate in the previous workflow, the idea of change was distressing and met with resistance by some staff members.
• B - Buy-in: All stakeholders must benefit in order for buy-in to be effective. Perhaps the greatest challenge was gaining full buy-in, although this also turned out to be the biggest reward in retrospect. Several weeks of meetings and training were required to gain the confidence, cooperation, and buy-in from the majority of staff. Explaining and emphasizing the reasons for the change was key to successful change. Gaining patient buy-in is equally important and steps should be taken to clearly communicate the process change to patients.
• C - Coordination of Change: From advertising, through systems installation, and then training, successful project coordination is vital to process change. We utilized all advertising avenues at our disposal from posting signs in the laboratory and on the intranet, to posting a laboratory manager at the entrance during peak times for the first few weeks post go-live to greet and instruct patients on the new process. We incorporated slogans such as, "one-stop shop" and "one wait versus two" to encourage patients to engage with this more efficient way of doing business.
To ensure the success of the new process, we scheduled individualized training sessions and designated practice time during slow periods to allow staff to acclimate before go-live. It was six to eight weeks before all drawing rooms were fully functional due to a delayed equipment order and installation; however, this allowed for a steady approach with more time for training and buy-in to evolve.
Continue to Adapt After Implementation
After the change, several positive outcomes ensued, but certainly the biggest feat was the ability to sustain operations under a less than optimal staffing situation. Furthermore, as the saying goes, it is impossible to please everyone, and we experienced a few patients who were not happy about the new process and made their voices heard. (Central Operations received an average of 5 complaints per month out of approximately 4000 patients seen.)
Even though the new process was more efficient, it was less personal and that was a difficult adjustment for some. Also, the number system installed was only semi-automated (due to limited funds), and therefore not capable of collecting data without manual intervention. Without the staffing to support manual collection efforts, it was impossible to share meaningful data regarding the impact on wait times and productivity. With limited statistical information available and the complaints of some customers in mind, we went back to the drawing board after recouping the bulk of our staffing losses to determine a way ahead.
After performing a root-cause analysis, we decided to revert to the previous check-in process allowing for a more personal approach for those patients who needed it, but were able to maintain continuous flow for routine patients in our one-stop shop drawing rooms. Looking further ahead, we plan to investigate automated ticket systems that can collect data and interface with existing systems.
Conclusion
Several lessons were learned for all involved in this complex change. It is never easy adjusting to a new process, especially for patients and staff who had been operating the same way for almost 30 years. Nevertheless, as leaders and managers in a professional field so critical to patient care, we must be able to recognize when change is necessary and not be afraid to face what is required to create that change. While a singularly perfect solution rarely presents itself, a bridge can be built to something better.
---

Captain Erica L. Buckley, MLS(ASCP)CM, MPH, is pathology and clinical laboratory flight commander at Keesler Medical Center, United States Air Force, located in Biloxi, Mississippi. Erica oversees 89 personnel and is responsible for the technical and administrative oversight for six clinical laboratory departments.
Current Issue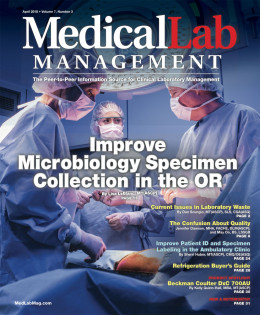 Subscribe to our Email Newsletters!
In The Loop!
Digital Edition
Special Announcements