Approaching NGS in a Small Molecular Pathology Lab
September 2018 - Vol. 7 No. 7
- Page #2
Article Category:

Q&A with Yaolin Zhou, MD
Director of Molecular Pathology
University of Oklahoma Health Sciences Center
MedicalLab Management: When did your laboratory begin considering the implementation of next generation sequencing (NGS) and for what purposes?
Yaolin Zhou: The molecular pathology laboratory at the University of Oklahoma (OU) is a CAP and CLIA accredited clinical laboratory with three experienced technologists holding ASCP molecular biology certification. Our laboratory, which is housed in the department of pathology (ie, separate from the hospitals at OU Medical Center/OU Medical Inc) has been open since 1995, and I became director of molecular pathology in July 2016.
In addition to running clinical services, the OU department of pathology has an ACGME accredited anatomic/clinical pathology residency program and molecular genetic pathology fellowship. As NGS has become increasingly common in the clinical setting, our department leadership felt it was necessary for us to expose our trainees to NGS processes as a benefit to graduate medical education. Further, it would allow our laboratory to offer our patients a standard of care achievable through NGS platforms.
After joining the molecular lab at OU, it was necessary to establish our laboratory's mission, and along with our technologists, we determined our primary goal is to create local molecular testing pathways for more efficient, evidence-based patient care, while advancing the teaching and research missions of our public university. We aim to do so in a collaborative, multidisciplinary, and cost-effective manner.
While it may be tempting to assume that NGS technologies can provide a catch-all answer to clinical challenges, we owed our mission to perform due diligence on alternative technologies, such as mass spectrometry and single nucleotide primer extension (SNaPshot) assays, which can be used for multiplexed gene testing. [For further information on this process, see my webinar Adopting NGS in Molecular Pathology, and Creating an EPIDEMic of Better Care, available at pathlms.com/captodaywebinars/webinars/3482.]
MLM: What challenges do laboratories face with the implementation of NGS, which may be magnified for smaller laboratories?
Zhou: There can be challenges to the adoption of NGS, with cost considerations and inadequate technical expertise (eg, bioinformatics support) being of greater concern for smaller laboratories such as ours. However, if we fail to acknowledge and implement new and beneficial technologies, we risk disservice to our trainees and rendering our laboratory irrelevant in the eyes of our clinicians, thereby providing suboptimal care to our patients. While academic laboratories are not designed to be revenue generators, it is always important to maintain financial viability. Thus, the initial challenge was to determine how the benefits of NGS could be ensured and significant enough to offset the cost of implementation, which includes substantial interpretation and reporting time. Ultimately, our laboratory decided to move forward with NGS for a number of reasons.
MLM: As chair of the OU Physicians Quality Committee, how did your interest in quality play a role when evaluating NGS technology?
Zhou: When we began our due diligence of NGS, I applied an approach based on the EPIDEM Model of quality improvement1:
Exploration – explore the local culture, context, resources, and potential problems and solutions
Promotion – promote the right individuals and develop multidisciplinary solutions
Implementation – implement strategically and with accurate timing
Documentation – document all relevant interactions and data available before and after
Evaluation – evaluate effectiveness of interventions
Modification – modify throughout the entire process and based on ongoing feedback
This acronym represents our goal of engaging health care professionals in improving patient care. Each letter of EPIDEM is also an easy-to-remember step of quality improvement, with the initial exploration being most critical. For example, under the initial exploration step, we would need to consider the following questions:
What are we trying to accomplish?
Who are the customers we want to serve?
What are the initial and ongoing costs?
What testing volume can we expect?
What resources do we need to apply for the system to be successful?
While large-scale and commercial laboratories are capable of running gene panels with 50 or more genes, we decided to focus on those with the greatest clinical utility to our practice. Further, as we perform our own billing, we cannot afford to run gene sequencing that we are unable to bill for.
Based on our exploration, we decided to focus on colon and lung cancer first. Driving our implementation of NGS is a desire to test each patient's tumor as early as possible and quickly provide key diagnostic and treatment information to clinicians. Patients diagnosed with metastatic colon cancer need extended NRAS and KRAS testing for therapeutic determination (as they are unlikely to respond to EGFR inhibitors), as well as BRAF, which is a poor prognostic indicator. Those three genes—NRAS, KRAS, and BRAF—are needed for newly diagnosed metastatic colon cancer.
For non-small cell lung cancer, the panel is larger and includes EGFR, BRAF, and KRAS mutations, as well as ALK and ROS1 fusions. The latter two can be more of a challenge because the starting material is RNA, rather than DNA, and there are multiple potential fusion partners that need to be accounted for.
MLM: How did you decide which genes to focus on?
Zhou: As a small molecular laboratory, bigger is not always better. Our laboratory wanted to make clinically actionable results available to our treating physicians, and while reference laboratories may process large tumor panels with hundreds of genes, we do not know the clinical significance of the majority of those genes, and there are only therapies for a few driver mutations. With this in mind, the decision to focus first on colon and lung cancer was due in large part to the fact that we treat so many patients with these diseases at our affiliated cancer center, the Stephenson Cancer Center, which is NCI designated. Also, there are clear multi-specialty society recommendations for both colon and lung that were recently published in 20172 and 2018,3 respectively.
After defining the patient population that would benefit most from NGS as well as the common cancers they face, we had to align the expectations of our clinicians and patients with the resources necessary to make NGS a reality. These contextual factors (explored in the first step of the EPIDEM model) are vital when discussing what types of assays to validate or what clinical pathways to develop. For our lab, it was clear early on that we did need to make a multi-gene approach available to our oncologists, but it needed to be done in a practical way. If the oncologists expect a 500-gene panel, that is unrealistic from a small laboratory.
A primary concern early on was clinical validation. Although there have been updates in the CAP accreditation checklists for NGS validation, guidance for clinical laboratories on how to best approach clinical validation has been limited, yet such validation is mandatory for ensuring that results issued by laboratories are accurate, precise, and clinically relevant. For our lab, which had no NGS components in place, the process of validating multiple steps (eg, extraction, library prep, clonal amplification, sequencing, etc) posed a challenge. In reviewing the available systems, it was important that the vendor be versed in both the full-range testing aspects of NGS, but also bioinformatics and reporting. The potential of NGS testing is broad, but specific interpretation is necessary for clinical efficacy.
At the Association for Molecular Pathology (AMP) annual meeting in November 2016, AMP/ASCO/CAP released its NGS reporting guidelines for somatic tumors.4 Up to that point, there was minimal standardization on how best to report NGS data. Creating actionable results is the point of any new technology, and this requires clarification on how to confidently call variants and report them with the AMP recommended tiers. Further, attendant bioinformatics software should include hyperlinks to relevant databases and publications to allow for independent verification of calls. In discussing these factors with NGS vendors, we ultimately chose the one most open to my suggestions.
At the AMP meeting in November 2017, the latest AMP/CAP guidelines were introduced in what would be published as the Standards and Guidelines for Validating Next-Generation Sequencing Bioinformatics Pipelines in January 2018, which provided further direction.5 With NGS, there is not a predefined, allele-specific result, and the resulting data can be wide ranging. Vetting and determining what database(s) to use can be an enormous task.
The guidelines themselves are quite daunting. Therefore, we needed a vendor partner who could present an end-to-end system and also listen to our ongoing needs. I have shared my concerns with our vendor and expressed a desire to work together to validate per the new guidelines, which would require them providing some specific details regarding their bioinformatics pipeline.
MLM: Where are you in the NGS adoption process?
Zhou: We have the NGS system installed and are in an initial evaluation period. For validation samples, the AMP guidelines state that for statistical reliability, validation needs to include at least 59 different single nucleotide variants (SNVs), 59 indels, and 59 complex variants. This is a challenging task. In addition to commercially available controls, we plan to use past extracted patient samples, re-extract previously tested formalin-fixed paraffin-embedded (FFPE) tissue samples, and perform concurrent testing on new samples to achieve the requisite number of variants for validation.
MLM: How does your lab plan to expand the use of NGS in the future?
Zhou: My preference is to take things one step at a time in order to maximize the chances of success. First, we want to validate the GeneRead QIAact Lung UMI panel, which consists of the GeneRead QIAact Lung DNA UMI and GeneRead QIAact RNA Fusion UMI panel. Our initial goal is to offer testing for lung cancer (KRAS, BRAF, EGFR), as well as for colon cancer (NRAS, KRAS, BRAF). This will most likely be followed by a review of ALK and ROS1 lung fusions traditionally done by cytogenetics (ie, florescent in-situ hybridization [FISH]).
The next phase is expanding specimen types from FFPE to fine-needle aspiration (FNA) samples. During my fellowship at Cleveland Clinic, we demonstrated that FNA specimen types can be quite effective for NGS.6 I firmly believe the ability to provide clinically actionable results earlier in the work up improves patient care.
MLM: What tips or advice do you have for other laboratory directors regarding the acquisition, onboarding, and active use of NGS technology?
Zhou: Be sure to perform due diligence on all available solutions before adopting any new test offering. This is the initial exploration step of the EPIDEM model. When you are creating new workflows, do so in a collaborative manner. Having strong relationships with pathologists, laboratorians, oncologists, and vendors is key to NGS success.
Personality and past training also are important factors for success. I am fortunate in having had excellent clinical mentors at Mayo Medical School and professors at Duke University who taught me policy analysis, political analysis, cost-benefit analysis, and how to write short, persuasive memos. My clinical training has taught me to think about things from the clinician's perspective, and my public policy training helps me know how to sell our laboratory's services and make financially sound decisions.
Soft skills and customer service skills are becoming increasingly important as health systems perform outreach, and these must be developed along with the technical and interpretive aspects of lab practice. Go outside the laboratory, spend time in oncology, and get to know the pathologists and oncologists working with you. If you are partnering with a vendor, you should have mutual trust and respect. At the end of the day, we are all trying to accomplish the same thing, to live up to our calling in medicine and provide the highest quality of care possible for our patients.
---
References
Zhou Y. Using the EPIDEM model of quality improvement to increase value of BCR-ABL1 tests. doi: 10.1093/ajcp/aqy089
Sepulveda AR, Hamilton SR, Allegra CJ, et al. Molecular Biomarkers for the Evaluation of Colorectal Cancer: Guideline from the American Society for Clinical Pathology, College of American Pathologists, Association for Molecular Pathology, and the American Society of Clinical Oncology. J Clin Concol. 2017;35(13):1453-1486.
Lindeman NI, Cagle PT, Alsner DL, et al. Updated Molecular Testing Guideline for the Selection of Lung Cancer Patients for Treatment with Targeted Tyrosine Kinase Inhibitors: Guideline from CAP, the International Association for the Study of Lung Cancer, and the AMP. Arch Pathol Lab Med. 2018;142(3):321-346.
Li MM, Datto M, Duncavage EJ, et al. Standards and Guidelines for the Interpretation and Reporting of Sequence Variants in Cancer: A Joint Consensus Recommendation of the AMP, ASCO, and CAP. J Mol Diagn. 2017;19(1):4-23.
Roy S, Coldren C, Karunamurthy A. Standards and Guidelines for Validating Next-Generation Bioinformatics Pipelines: A Joint Recommendation of the AMP and CAP. J Mol Diagn. 2018;20(1):4-27.
Reynolds JP, Zhou Y, Jakubowski MA, et al. Next-generation sequencing of liquid-based cytology non-small cell lung cancer samples. Cancer Cytopathol. 2017;125(3):178-187.

---
The author would like to thank Misty Lucas, MB(ASCP)CM, senior clinical laboratory technologist and quality assurance manager, and Jessica Wade, MB(ASCP)CM, clinical laboratory technologist and safety officer for their assistance and contributions.
---
Yaolin Zhou, MD, is director of molecular pathology and assistant professor of pathology at the University of Oklahoma Health Sciences Center (OUHSC). She is a board-certified anatomic and clinical pathologist and molecular genetic pathologist. Yaolin earned a BA in public policy at Duke University, an MD at Mayo Clinic College of Medicine, and performed a residency and fellowship at University of Alabama at Birmingham and Cleveland Clinic, respectively. She has been recognized by USCAP, ASCP, and ACLPS for research that promotes high quality patient care.
Like what you've read? Please log in or create a free account to enjoy more of what www.medlabmag.com has to offer.
Current Issue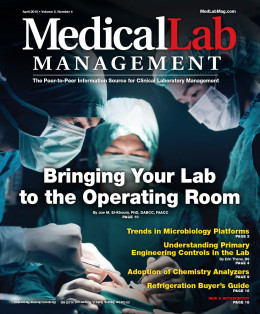 Subscribe to our Email Newsletters!
In The Loop!
Digital Edition
Special Announcements