Create a Strong Lab Team Through Recruiting
September 2018 - Vol. 7 No. 7
- Page #20
No matter how much money is spent on sophisticated laboratory instrumentation, a lack of qualified, well-trained personnel will undermine the laboratory's success at every turn. In fact, well-trained and skilled laboratory personnel are the single greatest determining factor of operational success. That said, recruiting and retaining new laboratorians can be difficult, time consuming, and expensive.
Managing risk is more important than ever in this litigious age and as experienced laboratory staff members are retiring faster than new employees are able to fill those positions, many laboratories are experiencing significant increases in workload and work-related stress. These circumstances are a breeding ground for potential mistakes, increased costs due to overtime and temporary workers, and for the cessation or abandonment of improvement projects. Therefore, a concerted effort should be invested in how the laboratory is bringing new staff on board.
Hire Staff with Beneficial Values
The following attributes are of particular importance when hiring new laboratory staff.
Integrity/Honesty/Trustworthiness: Intelligence is purposeless if the staff member is not honest and dependable regarding professional obligations. For example, when an instrument maintenance log is completed, the laboratory director must be assured that the work was actually performed.
Loyalty: Given the time and financial resources necessary to properly train new employees, there needs to be a commitment and a contribution back to the lab over time. However, professional loyalty is a two-way street, and the expectation of loyalty from employees must be accompanied by a lab's loyalty to its employees.
Professionalism: Professionalism matters, and how laboratory staff members communicate and behave tends to be indicative of the economy and efficiency of lab operations. Thus, staff professionalism should reflect the professional intent of the lab.
Assertiveness: There is a never-ending list of tasks that contribute to a well-run laboratory, and effort should be made to identify employees who seek out additional work once tasks are completed. The drive for continuous improvement should be encouraged in all staff.
Attention to detail: Laboratory directors are aware of the challenges to consistently providing accurate, precise, and timely testing results. The devil is in the details and even the smallest mistake can derail these factors. Failure to attend to what some may consider "insignificant" details, such as strict temperature management of reagents or regularly scheduled instrument maintenance, can have a profound impact on the veracity of lab operations.
Problem solving skills: Every lab faces daily challenges, so the value of positive and enthusiastic staff members cannot be overestimated. For management and staff alike, mistakes and problems should be seen as process improvement opportunities. As front-line staff, laboratorians should be relied upon to troubleshoot and solve common issues. Likewise, management should encourage both the reporting of issues and the proposition of solutions.
Interpersonal skills: Now more than ever, it is important that laboratory staff communicate clearly both internally and externally. Clinical laboratory work is often collaborative and staff must treat each other's opinions with due respect. The ability to work well with each other and with other clinical departments is essential to long-term stability.
Ability to embrace change: Laboratorians are keenly aware of the speed at which change can take place. New instruments, methodologies, regulations, and restrictions can be introduced in rapid succession, so staff must be open to these changes and find within them opportunities for improvement.
Finding the Right Employees
Cast a wide net when recruiting. Potential new employees can be identified via specialized recruiting firms, local medical technology and medical laboratory technician schools (especially when paired with opportunities for internships), the laboratory's or health system's internal website, general internet-based job posting websites (eg, Indeed.com, LinkedIn.com), and professional organizations such as CLMA, ASCP, AMT, and so on. If allowed, post job openings in the lab break room and any other common areas of the facility (eg, the hospital cafeteria) to encourage staff referrals and connections.
Résumé screening is important to ensure appropriate education, certifications, and experiences are met for the requirements of the position. It also provides the opportunity to gauge the candidate's professional progress over time, and probe frequent job changes or gaps in employment.
An Effective Job Description
A good job description clearly defines responsibilities and communicates expectations; in addition, it establishes metrics and indications of job success and clarifies how these factors will be measured. Job descriptions should include the following:
Mission statement: Facility- or laboratory-specific, the mission statement should indicate the laboratory's purpose, place in the market, defining characteristics, and how employees can become vested in institutional goals.
General statement of duties: Identify essential duties and expectations of the position.
EXAMPLE: Be part of a high-performing physicians' office lab that helps ensure quality patient care. Perform administrative and clinical duties under the direction of the Lab Director and Lab Manager (to include activities such as phlebotomy, general laboratory testing, and instrument maintenance and troubleshooting). This position is guided by the principles of trust, teamwork, responsibility, communication, and mutual respect.
Education: Indicate the minimum education that meets CLIA and state requirements for performing waived, moderate, or high complexity testing. Indicate preferred education as appropriate to the position.
Requirements: Specify other elements required for the position such as certifications (eg, ASCP, AMT, etc), licenses (as required by individual state), CLIA-defined qualifications, clearances (eg, FBI, child abuse, I-9), CPR certification, and so on.
Working conditions: Practice specifics, location specifics, work type/population served, and time expectations must be clearly indicated, especially those involving challenging circumstances. It is a hiring failure when a new employee leaves because he or she did not know what the work was going to involve.
EXAMPLE: A fast-paced, well-lit, comfort-controlled physician office laboratory in a high-traffic area. Work may be stressful and interaction with others may be constant and interruptive. Frequent exposure to communicable disease, toxic substances, medical preparations, and other conditions common to a clinic and laboratory environment.
Physical demands: Detail the physical functions required for the position.
EXAMPLE: Must be able to lift objects up to 40 lbs. Occasional stress in working with tense patients. Duties involve substantial standing and walking, stooping, and bending. Requires ability to see color test readings (ie, pass a colorblind test) and good eye/hand coordination.
Knowledge and performance requirements:
EXAMPLE: Ability and knowledge to perform clinical laboratory procedures, quality assessment, and instrument maintenance. Knowledge of laboratory equipment and instruments.
Disclaimer regarding changes: This is important because clinical roles do change over time. Employees need to be flexible to the demand placed on the facility and should expect to grow in their knowledge and skills overtime, thus becoming more valuable to the laboratory.
EXAMPLE: This job description is intended to provide the initial essential guidelines for meeting job requirements. Responsibilities, knowledge, skills, abilities, and working conditions may change as needs evolve.
Signatures: Signatures are important to ensure responsibility is taken by both the employee and company. Provide new employees a copy of the signed job description so they can refer to it periodically and determine whether they are meeting the stated goals/ objectives of the position.
Onboarding New Staff
Once a candidate has been selected and has accepted, the training and onboarding process begins.
Have a scheduled plan
Ensure adequate time for the employee to absorb job-relevant information first and supporting information as needed. A detailed review of all policy and procedure manuals is important, but all tasks should be prioritized, beginning with tasks that allow the employee to contribute to the lab team as soon as possible. Start slow and schedule additional trainings as staffing and time allow. Assign a mentor for the new employee to meet with regularly for progress assessments and to answer any questions.
Use Training Checklists
Training checklists help verify the employee obtains all necessary knowledge for the position. Document who performed the training, dates/times of training, and the skills required for competency. Items to consider for inclusion involve an understanding of:
HR Polices: Attendance, dress code, parking, scheduled breaks, etc
HIPAA: Privacy practices and responsibilities for confidentiality
OIG/compliance: Billing integrity, standing orders, medical necessity
Safety/infection control: OSHA safety manual, emergency action plan, location and use of PPE (personnel protective equipment), fire extinguishers, eyewash/emergency shower
Job-specific training: Hematology, chemistry, serology, or urinalysis instrument-specific training, etc. If any IQCPs are in place at your laboratory, be sure to include the areas you have identified as potential risks in your training checklist.
Acknowledgement signature: Employee accepts responsibility for training
EXAMPLE: "I have read the procedure manuals, instrument manuals, and test kit package inserts. I feel I have been provided adequate training necessary to perform my job. I further understand the obligations of my responsibility to perform phlebotomy and testing according to policy and procedure." Obtain appropriate documentation of employee and supervisor signatures when reviewed.
Be Selective in Choosing Trainers
Ideally, select experienced staff members who enjoy sharing their knowledge, are positive and encouraging, and are not overly critical or punitive. In accordance with lab management and those performing training, perform progress evaluations in a timely fashion (eg, at 30 and/or 60 days) to best ensure onboarding success.
Competency Evaluation
Competency is the ability of personnel to apply their skill, knowledge, and experience to the correct performance of their laboratory duties. Competency assessments help ensure laboratory personnel are fulfilling their duties as required by CLIA. Such assessments must be performed by the lab director or qualified designee prior to reporting patient results, semi-annually for new operators, and annually thereafter. The six required competency elements to be measured are:
Direct observation of routine patient test performance
Monitoring of the recording and reporting of test results
Review of intermediate test results or worksheets
Direct observation of instrument maintenance
Blind sample testing (ie, proficiency testing)
Assessment of problem solving skills
An evaluator is required (per CLIA) to observe patient testing and maintenance by the employee. Documentation of competency assessment can be in the form of a checklist that an employee and evaluator sign in addition to other supporting documentation (eg, instrument performance reports, proficiency testing results, worksheets, tests/questions, quality assurance documentation, etc). Save all documentation in the personnel file for regulatory inspection review.
Remember Existing Staff
Existing staff also must be engaged as new employees come on board. It is critical to support established lab employees, or they will look for greener pastures elsewhere. Compensation and benefits support is one thing, but staff are most likely to remain engaged and ambitious when communication is clear, resources for effective performance are provided, and advancement and growth opportunities are presented. As a laboratory director, do not spend your days in the office with the door closed. Annual reviews are a given, but do not let this be the only time you have face-to-face interaction with staff. Walk through the lab on a regular basis and ask staff about any current problematic issues or what additional resources may be helpful.
Build a culture of continuous improvement by identifying issues and addressing root causes as an educational opportunity. Involve staff in decision making as much as possible, especially those directly affected by the outcomes. Encourage staff to share their knowledge and help each other improve. Participation in continuing education through webinars, staff meetings, and/or conferences (eg, CLMA, ASCP, ASCLS, AMT, AACC, etc) should be emphasized and valued.
Ultimately, effort should be made to make the laboratory an enjoyable place to work. Life is difficult enough as it is, so support, encouragement, and mutual respect among coworkers can ease the challenges of work. Take time to celebrate accomplishments such as passing an inspection, successful implementation of new instrumentation, or a staff member's professional accomplishments (eg, new degrees, published articles/research, conference presentations, etc).
Conclusion
Seek out and hire employees who show integrity, optimism, generosity, loyalty, and the desire for continuous self improvement. Hire not only for trained skills, but for character. Engage your staff so they realize that what they do is important and makes a difference.
Ensure job descriptions are well written and clear, and support new employees with a solid onboarding experience including sufficient training and meaningful competency assessment. Encourage and enable ongoing continuing education, training, and professional development. Foster opportunities for staff to network and bring new knowledge and skills to the lab. Communicate often with staff members so they know they are vital to the success of the laboratory, and invest in them so they will continue to invest in the lab. Finally, never stop learning yourself.
---

Milly Keeler, MT(ASCP), CLC(AMT), CCCP, is a CLIA specialist and owner of Keeler Laboratory Consulting. She is a certified CLIA compliance professional (CCCP) with over 20 years' experience in multiple disciplines of laboratory testing in a variety of health care settings.
Milly is board certified by the American Society of Clinical Pathology and has been an associate member since 1995. She is a certified Clinical Laboratory Consultant through American Medical Technologists, as well as an active board member for the Northwest Chapter of CLMA and a member of CLMA's Active Response Team.
---
Additional Lab Management Resources:
• Harvard Business Essentials: Manager's Toolkit 13 Skills Managers Need to Succeed
• COLA Personnel Lab Guide
• COLA Personnel Training and Competency Assessment Lab Guide
• CLIA Brochures on regulation and guidance legislation
Like what you've read? Please log in or create a free account to enjoy more of what www.medlabmag.com has to offer.
Current Issue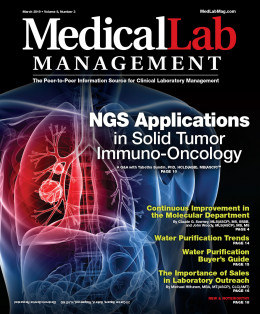 Subscribe to our Email Newsletters!
In The Loop!
Digital Edition
Special Announcements