Buyer's Guide: Laboratory Information Systems
September 2018 - Vol. 7 No. 7
- Page #24
Article Category:
The laboratory information system (LIS) has become indispensable in most clinical laboratories, and identifying the functional specifications necessary for the LIS to run smoothly requires input from frontline staff. If an update or change to the LIS is deemed necessary, take time to review the available systems that meet your individual lab's needs. In order to create a comprehensive workflow map, ask staff members to elucidate a best-case scenario from their perspective. Detail how specimens currently are delivered to the lab and how they are identified, handled, analyzed, resulted, and stored. Then look for areas of improvement. Challenging staff to identify the best way to manage lab workflow is a great way to gain their buy-in and support of a new LIS.
Collaboration with IS services is vital to any LIS change and demands careful management. The lab must lead the change process with support from IS, not the other way around. The most successful information system projects start with broad education for all parties involved on new functionalities. An implementation team should be formed comprising operational, managerial, and LIS/IS technical representatives. This process can take time but is absolutely essential to avoid greater problems downstream.
Once all relevant staff have a firm understanding of the new system capabilities, the operational aspect of the team must take over and align those capabilities with the best-case scenarios mapped out during workflow vetting. Without doubt, each member of any clinical lab's staff can name at least one operational improvement that would benefit themselves, as well as the lab. For example, ask each staff member to indicate the type, time, layout, and content of LIS reports that would be most advantageous to their responsibilities. Ideally, IT then will take these suggestions and find ways to make them reality.
The following entries are a sampling of the large market of LIS and middleware systems available to clinical laboratories.
---

TDNexLabs from Technidata is a next-generation LIS for biochemistry, hematology, immunology, serology, virology, and microbiology. Designed to improve quality of care and lab performance, the system facilitates laboratory management and decision-making with information management (including real-time key indicators, an interactive dashboard, and advanced analytical and statistical tools) and is scalable to manage multi-site/multi-disciplinary configurations with a single LIS. TDNexLabs provides extended interoperability for integration with existing systems and interfaces with lab automation systems, while also facilitating laboratory accreditation (comprehensive audit system, document and non-conformity management modules, quality control, comprehensive traceability). From the merging of technical platforms, escalating data volumes, and business intelligence to evolving medical and technological regulatory requirements, TDNexLabs helps the laboratory to face a variety of everyday challenges.
From Technidata
---

The Atellica Data Manager from Siemens Heathineers organizes lab data to standardize testing, optimize QC performance, and maximize the potential of autoverification while reducing operator interventions, unwarranted variations, and errors. Open and scalable, the system is built on the CentraLink solution, which has been used by more than 1000 laboratories to optimize clinical operations, increase testing volumes, and improve turnaround times. This QC and result management software delivers the clinical details needed for informed decisions using a distinctive and intuitive new user interface, and is designed to help labs achieve better outcomes in the era of digitized healthcare.
From Siemens Healthineers
---

The Orchard Harvest laboratory information system from Orchard Software processes, stores, and manages laboratory data during all stages of testing and workflow. Utilizing process automation, robust interfaces, and rules-based decision-support technology, Orchard's systems address regulatory issues, improve efficiency, reduce errors, and assist with reimbursements. With audit trail, statuses, and sample tracking features, laboratories have the tools to organize and track laboratory samples and specimens throughout all phases of the testing process. Harvest LIS incorporates advanced system security, intuitive data analytics, and extensive quality control features that improve laboratory efficiency and productivity. Additional features include the Webstation, LIS Remote Workstation, LIS Point-of-Care Management, and Microbiology modules, as well as Orchard Collect, a positive patient ID tool for blood collection at the patient bedside.
From Orchard Software
---

XIFIN LIS 5 is a cloud-based laboratory information solution that helps labs better integrate with the broader health care ecosystem. With an end-to-end diagnostic technology platform as its foundation, XIFIN LIS 5 facilitates the open but secure exchange of diagnostic, financial, and clinical information. It connects all laboratory operational components, including test ordering, lab workflow management, transcription, reporting, billing, and financial management within a single, easy-to-use platform. With highly configurable automation, workflow visibility, and detailed reporting capabilities, the system enables physician collaboration. Specialty modules provide optimized workflow and functionality for esoteric testing, such as molecular (MDx) and next-generation sequencing (NGS). For an early-stage pharmacogenomics (PGx) laboratory, an established lab experiencing growth, or a mature lab looking to gain efficiencies and develop new revenue streams, the LIS selected should be highly flexible. XIFIN LIS 5 will grow and move with the organization and enable diagnostic business excellence.
From XIFIN
---

CLIN1 LIS includes tools and configurations to accommodate a variety of laboratory facility types (clinical, toxicology, histology/pathology, molecular, etc). The software includes intuitive screens with color-coded fields to help laboratory professionals accomplish daily tasks with ease and efficiency. Including extensive analyzer interfaces, multi-well processors, and HL7 interface capabilities, the system is designed to eliminate the communication barriers between laboratory productivity and operations profitability. With options to gather patient, sample, and billing information from clients for effortless transmission to the EHR or billing solutions, the CLIN1 LIS also includes a variety of reports and logs to provide insight into laboratory activity.
From CLIN1
---

The LigoLab AP/LIS is an enterprise-wide solution that extends beyond core workflow support and provides modules for outreach support, document imaging, specimen security and tracking, client services, digital pathology, and consultative diagnostic reporting. LigoLab offers unique volume-based pricing with no initial licensing fees, allowing process improvement, reduction of errors, and increased revenue. This integrated solution is designed to meet the diverse needs of molecular, clinical, and anatomic pathology laboratories by supporting, transforming, and streamlining the life cycle of laboratory operations.
From LigoLab
---

The xLAB LIS from AP Visions is an inclusive, next-generation LIS designed for laboratories of all sizes, from single-doctor practices to multi-site locations. The system provides the predictive tools to respond quickly after analyzing enterprise data, and, through a partnership with RPRT, numerous monitoring and reporting tools are now available, including patient analytics. These reports allow managers to focus on improving productivity and quality while reducing paper clutter in the laboratory. The available applications are: Population data by diagnosis, utilization statistics, performance management, regulatory compliance, metadata management, dashboard management, data mining, and data quality management. With these reports, users can track key performance indicators and display clinical data analytics that are paramount for health care organizations' quality improvements.
From AP Visions
---

PROLIS from American Soft Solutions Corp is a single-module-fits-all system for chemistry/hematology, urinalysis, toxicology, microbiology, pathology with synoptic reporting, and other molecular testing. Its functionality and automation can adapt to the laboratory's requirements of interfacing to analyzers, EMR systems, and other reference lab systems. Offering integrated billing, PROLIS is a complete laboratory information system software with a simple but systematic self-explanatory user interface (UI) ensuring ease of use and minimal advanced training for lab personnel.
The LIS includes client service routines, accession dashboard, multiple resulting routines, reporting dashboard, QC, custom reporting engine, laboratory logistics management, outsourcing routines, integrated laboratory billing, and all dictionary building routines.
From American Soft Solutions Corp
---

CyberLAB and CyberPATH from ASPYRA
offer comprehensive management solutions designed for any laboratory. CyberLAB is a scalable, clinical information system that provides: QC, microbiology, management reports, medical necessity options, drugs of abuse reporting, and more, to address the life cycle of laboratory operations from ordering to reporting. ASPYRA's web gateway allows the laboratory to deploy CyberLAB to clients for order entry and result searches, streamlining workflow and minimizing interruptions for staff.
CyberPATH is designed for anatomical pathology laboratories, offering comprehensive functionality and management tools to optimize workflow, as well as efficiency and cost savings for anatomic pathology and cytology lab operations.
CyberLAB LIS is a highly scalable system using Microsoft SQL as its backend coupled with a browser UI for ease of deployment.
From ASPYRA, LLC
---

Orchard Sequoia from Orchard Software
is an enterprise-level LIS designed to support high-volume, complex laboratory testing across multiple labs and departments performing clinical, microbiology, molecular, and pathology testing. Utilizing a Microsoft SQL Server Enterprise Edition database, the system provides a high-volume, high-velocity solution required by growing laboratories. Laboratory data can be mined without exposing the production database and used to populate an SQL data warehouse to give data analysts access to information across multiple systems. Advanced configurable rules are available to aid in decision making throughout the testing and resulting process, enabling a patient-centered approach to rule design and implementation. With logical rule sequencing and sophisticated filter options, it aims to be intuitive and easy to utilize. Sequoia's proven interface engine provides integration using HL7 standards and allows health care organizations to build their own host interfaces, eliminating the wait time, frustration, and cost of a vendor-developed interface. In addition, the Sequoia platform is cloud-enabled, allowing access to data via a browser-based user interface, creating a continuous online connection.
From Orchard Software
---

Psyche Systems Corporation's e.Docs is a software module that allows users to scan paper documents, assign them to a specific case number, store them digitally, and view them at any time. Either a standard flatbed or sheet-fed type scanner can be used, with or without an automatic document feeder. Documents can be scanned with a manually entered case number or a preprinted bar code label of the case number, which e.Docs can automatically locate. Supported formats are any combination of Code 39, Code 93, Code 128, and DataMatrix 2D. Previously scanned documents can be located by choosing from a pre-set filter, such as start/end date, key words, products, case number, and "needs review" checkbox.
Once a document has been located by the preferred search method, it can be viewed individually in the Image Viewer Window in slide, grid, or list view format by clicking the document. If multiple documents are scanned for one case, a thumbnail image of each document is displayed, and each attached document can be subsequently viewed.
From Psyche Systems Corporation
---

Polytech LIS from Comp Pro Med utilizes advanced technology that limits downtime and allows maximum productivity for the lab. As a highly flexible and user-friendly system, it maintains specific functionality customizable to any lab. Comp Pro Med offers direct support provided by senior programmers, and users will benefit from the system's fast deployment time, which can be ready for go live in less than four weeks.
The system reflects built-in costs for customizations such as report format changes, screen output changes, and system configurations, so there are no unanticipated charges.
From Comp Pro Med
Like what you've read? Please log in or create a free account to enjoy more of what www.medlabmag.com has to offer.
Current Issue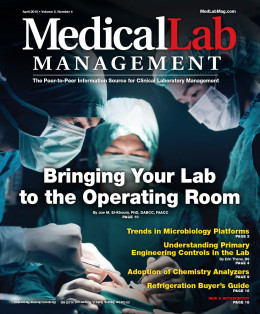 Subscribe to our Email Newsletters!
In The Loop!
Digital Edition
Special Announcements