Staff Members are the Lab's Lifeblood
September 2018 - Vol. 7 No. 7
- Page #1
Few medical careers require a broader scope of understanding than that of laboratory director, and while such a panoply of knowledge is undoubtedly a point of pride for many directors, responsibilities and tasks must be delegated and expertise ceded to skilled and ambitious staff members. Hiring, nurturing, and supporting laboratory staff of all ranks and files is essential not only to the vitality of the laboratory and greater health care facility, but to the peace of mind of the laboratory director.
Effective leaders in the laboratory invariably display both a commitment to purpose and an openness to ideas for improvement. As this month's cover story indicates, the need to prioritize all essential staff members is key to a well-run laboratory (see page 8).
With this in mind, MedicalLab Management is proud to present its content free of charge to all clinical laboratory practitioners, from directors to bench techs. While the content of MLM tends to speak to director-level laboratorians, exposing management concepts to those who hope to someday enter the director ranks can only be beneficial in the long run.
It is entirely reasonable to feel at times as though your laboratory is practicing in a bubble. As today's clinical labs incorporate novel technologies and prescient methodologies, many practitioners may feel alone on the frontier. This is why the concept of peer-to-peer information sharing is so critical to the mission of MLM. While we hope our peer-to-peer content reaches all laboratory directors, we want to speak to the future leaders as well.
The demands facing clinical laboratories today require constant vigilance of process and a finger on the pulse of improvements and breakthroughs in technology and methodology. In order to do this, tap into perhaps the best resource you have: Your own future leaders.
To sign up your laboratory and pathology staff for a free MLM subscription, or to renew your own, please visit medlabmag.com/subscribe It only takes a few moments, and those moments will be well spent.
With best regards,
David McCormick
Managing Editor
davidm@ridgewoodmedia.com
Like what you've read? Please log in or create a free account to enjoy more of what www.medlabmag.com has to offer.
Current Issue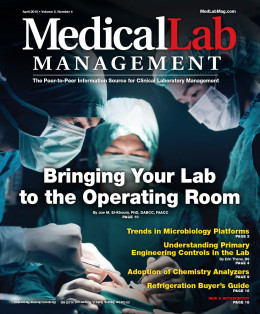 Subscribe to our Email Newsletters!
In The Loop!
Digital Edition
Special Announcements