Mar-Apr 2013
Plasticware for Laboratory Use
By: Greiner Bio-One
Greiner Bio-One announces a new agreement with the Premier Healthcare Alliance to provide BioScience general plasticware to all Premier members in North America at specially negotiated pricing and terms. The Bioscience product line will be available for use in day-to-day clinical and research operations, and has been added to the extensive listing of clinical and safety products already being supplied by Greiner Bio-One. Premier is a performance improvement alliance of more than 2,600 US hospitals and more than 86,000 other sites using the power of collaboration and technology to lead the transformation to coordinated, high-quality, cost-effective care. Greiner Bio-One provides product manufacturing, distribution logistics, and product application support to clinical laboratories performing IVD testing, research laboratories at universities, startup companies, and to the world's largest pharmaceutical and biotechnology corporations. Greiner Bio-One's products consist of blood collection systems, microwell plates, cell culture dishes, plates and flasks, and other general labware products specifically related to the medical research field.
Recent Popular Articles
Current Issue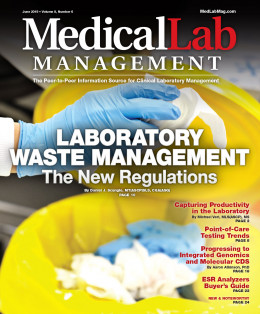 Subscribe to our Email Newsletters!
In The Loop!
Digital Edition
Special Announcements