October 2018
Laboratory Refrigerators
By: Thermo Fisher Scientific
The Thermo Scientific TSG Series of refrigerators provides secure and energy-efficient storage with quiet operation and a small footprint. Powered by Phononic's solid state cooling technology, the refrigerators provide uninterrupted temperature stability for reliable storage of the most sensitive materials. With Energy Star-rated performance, the refrigerators require only minimal maintenance and
offer a large storage capacity. The TSG Series refrigerators are available in under-counter (TSG505) and countertop (TSG205) configurations to suit varying application needs. The TSG505 is designed to support third-party monitoring solutions often employed in clinical settings, whereas data logging and download capabilities on the TSG205 are easily enabled via a USB port to meet clinical record management needs.
Thermo Fisher Scientific
Current Issue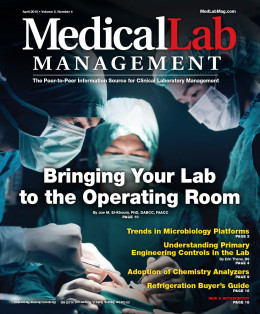 Subscribe to our Email Newsletters!
In The Loop!
Digital Edition
Special Announcements