Identifying Lab Errors that Lead to Lawsuits
September-October 2014 - Vol. 3 No. 5
- Page #6
Article Category:
One of the worst outcomes for a clinical laboratory in the course of its operations is a charge of negligence or medical malpractice. While every laboratorian seeks to avoid such a scenario, even the most stringent and wide-reaching policies and procedures (P&Ps), quality assurance, and quality control measures cannot eliminate all errors. In the best of circumstances, the human fallibility factor remains.

Obviously, some mistakes are worse than others. Thus, studying the misadventures of fellow laboratorians through the examination of actual case law can illustrate the most costly and egregious errors—those that most commonly lead to litigation.

Intricacies of Laboratory Case Law
In reviewing case law, it is important to understand the differences between negligence and medical malpractice. In legal context, the distinction is significant because each comes with a different statute of limitation, which dictates the length of time patients may bring action against a practitioner or institution. In medical malpractice cases, the statute of limitation expires two-and-a-half years after the act or omission constituting medical malpractice occurred (or one year and 90 days, if a patient was injured in a municipal hospital). With negligence cases, injured patients have three years to take action.

In generic terms, medical malpractice can be defined as professional negligence (ie, negligence committed by a medical professional, such as a licensed physician or nurse). At the heart of a medical malpractice claim is the special, direct relationship between a patient and his or her health care provider. This relationship gives rise to the duty imposed on the health care provider to provide proper patient care. Generally speaking, in the absence of this special relationship, medical malpractice should not exist. That is why mistakes made by laboratories most commonly qualify as negligence, as opposed to medical malpractice, given the laboratorian's relative distance from the patient. Nevertheless, certain laboratory errors can constitute medical malpractice.

Over the years, the courts have developed various criteria for what constitutes a claim of medical malpractice. A clear definition was established by the State of New York's Court of Appeals, in Bleiler v Bodnar.1 In this case, the Court defined medical malpractice as a negligent act or omission . . . that constitutes medical treatment or bears a substantial relationship to the rendition of medical treatment by a licensed physician. The first part of this definition (an act or omission that constitutes medical treatment) refers to the acts of a licensed physician. The second part of the definition (an act of omission that bears a substantial relationship to medical treatment) was interpreted to extend to the acts and omissions of other health care practitioners, such as laboratory personnel, but only if these acts and omissions bear a substantial relationship with the diagnosis or treatment of a particular patient.

This definition has guided many court decisions and is the rationale behind the following decisions rendered in New York courts.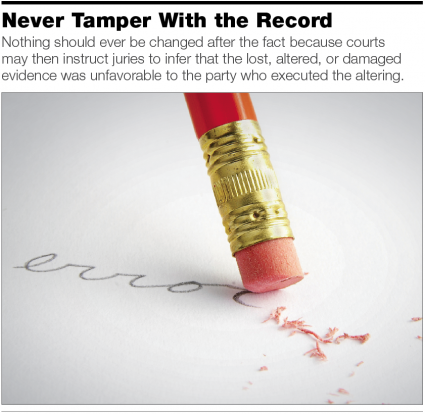 Did the Error Directly Influence Diagnosis or Treatment?
In a recent case involving a laboratory, Spiegel v Goldfarb,2 Dr. Goldfarb ordered a series of blood tests for his patient, Mr. Spiegel. One of the specific purposes of the testing was to rule out endocarditis, which, in Mr. Spiegel's case, was previously caused by the bacteria Streptococcus viridans. The laboratory's initial report indicated that testing revealed no bacterial growth. Based on this report and the patient's prior history, Dr. Goldfarb concluded that Mr. Spiegel had a viral disease, rather than endocarditis. Accordingly, he decided against prescribing antibiotics and concluded that his patient did not require immediate hospitalization.

When Mr. Spiegel's condition did not improve over the next few days, Dr. Goldfarb requested another set of blood tests. A second report issued by the laboratory again stated that testing revealed no growth of bacteria. However, a few days later, the laboratory issued a new report describing growth of enterococci, which turned out to be a mistake. Subsequently, after retesting the blood specimen, the laboratory issued a final report correcting its mistake and identifying the bacteria in Mr. Spiegel's blood as S. viridans. By this time, Mr. Spiegel was extremely ill, and his vision was significantly impaired. He was admitted to the hospital, where he was diagnosed with endocarditis and underwent open-heart surgery, during which he suffered a stroke and sustained permanently debilitating injuries.

During the deposition, it was confirmed that the laboratory technicians made mistakes in analyzing and reporting the test results. The court found that the mistakes of the laboratory constituted medical malpractice, as opposed to ordinary negligence, because the results were a crucial element of the patient's diagnosis and treatment, and an integral part of the process of rendering medical treatment.

Similarly, in Price v Benedict Community Health Center, Inc,3 the laboratory misread the patient's Papanicolaou test as negative for malignancy. Mrs. Price later was diagnosed with, and eventually died from, carcinoma. The court found that the actions of the laboratory constituted medical malpractice, emphasizing that the laboratory was not performing a general duty, but rather was specifically requested by the treating physician to provide cytological analysis with respect to the diagnosis and treatment of a particular patient, ie, Mrs. Price.

In another similar case, Calvin v Schlossman,4 where the laboratory mistakenly issued a negative result on a patient's Pap test, the court reached the same conclusion. In this case, the court characterized physicians and laboratories as allies for the prevention and treatment of disease, and stressed that the analysis performed by a laboratory is supplemental to, and bears directly upon, the course of medical treatment to be provided.

Pre-pregnancy and Pregnancy Screening Services
The same reasoning has been applied in a number of cases involving pre-pregnancy and pregnancy screening services. Most recently, in Grossbaum v Genesis Genetics Institute, LLC,5 Mr. and Mrs. Grossbaum both carried cystic fibrosis gene mutations. As such, the Grossbaums decided to undergo in vitro fertilization (IVF) with pre-implantation genetic diagnosis (PGD) in the hope of conceiving a child without cystic fibrosis. The laboratory performed specialized diagnostic tests on the couple's embryos for the purposes of determining which embryos were free of the disease. Following the testing, their physician implanted two of the embryos deemed safe using IVF. At least one of the implanted embryos must have contained mutated genes, however, because their child was born with cystic fibrosis. The Grossbaums brought claims for wrongful birth, wrongful life, and wrongful pregnancy.

The court found that the genetic laboratory committed malpractice. The laboratory provided genetic diagnoses of the Grossbaums' embryos, with the understanding that the couple would rely on those diagnoses for the purpose of conceiving a child that would not be afflicted with cystic fibrosis. Thus, the genetic laboratory played an integral part in the medical reproductive treatment provided to the Grossbaums, because, unlike the IVF and implantation services, their PGD tests were the only part of the process that had the potential to diagnose flaws within the embryos prior to pregnancy.

In a similar case, Jorge v New York City Health and Hospitals Corp,6 a pregnant patient with the genetic trait for sickle cell anemia had her unborn child's father tested for the same trait. The lab erroneously reported the father's test result as negative, and the patient proceeded to give birth to a child with sickle cell anemia. The parents alleged that the hospital's erroneous negative finding unduly influenced them against terminating the pregnancy, and the court found that the hospital's error was indeed medical malpractice.

Negligence as A Breech of General Duty
The above cases are distinguishable from cases in which the challenged conduct was not linked to the medical treatment of a particular patient, but rather constituted a breach of a general duty.

In Weiner v Lenox Hill Hospital,7 a patient who suffered from a small bowel obstruction received a number of blood transfusions at Lenox Hill Hospital. Eight units of blood came from the hospital's blood bank, and seven units came from the New York Blood Center. At least one of the units was contaminated with the HIV virus, and, subsequently, the patient was diagnosed with AIDS and eventually died of an AIDS-related illness.

The court found that the hospital's failure to adequately screen and test its blood supplies to prevent contamination constituted ordinary negligence. The court reached this conclusion even though the units of blood were used in the course of treating a particular patient. The reasoning applied by the court in this case is of particular importance to hospital laboratories. While it could be said that a hospital is always furnishing medical care to patients, not every act of negligence toward a patient is medical malpractice. When the basis of the claim is not negligence in furnishing medical treatment to a patient, but rather the hospital's failure to fulfill a general duty, the hospital's error will be considered ordinary negligence.

The same rational was applied in the case, Rodriguez v Saal,8 in which a patient underwent a kidney transplant. Clinicians discovered later (after the donor kidney was rejected and had to be removed) that the transplanted kidney was cancerous. The court found that the organ bank's inadequate testing and screening procedures used in harvesting organs and providing organs for transplant constituted negligence.

Along a similar vein, the courts have consistently held that a laboratory's failure to communicate significant medical findings to a patient or the treating physician constitutes ordinary negligence.

In Yaniv v Taub,9 Ms. Yaniv had chest x-rays taken at a radiology office. A radiologist reviewed the results and prepared a report indicating that Ms. Yaniv had a mass in her chest, which was presumed to be a metastasis. Ms. Yaniv's treating physician alleged that he never received the report, and the mass went untreated until another x-ray was taken six months later. Ms. Yaniv died shortly thereafter of carcinoma. The radiology office's failure to inform Ms. Yaniv or her treating physician of the x-ray results was considered to be negligence. Here again, even though the x-rays were performed in order to diagnose a particular patient, the failure to adequately supervise the office staff and implement office procedure (to ensure x-ray reports were properly communicated) was considered to be ordinary negligence.

This brief review of New York case law demonstrates that a laboratory's mistake in analyzing specimens that results in misdiagnosis and/or mistreatment of a particular patient generally qualifies as medical malpractice. However, if a laboratory's error is predicated on a breach of general duty, such as the duty to adequately screen blood supplies or to implement proper office procedures, that error will be considered ordinary negligence.

Protecting Your Lab
When the courts are investigating laboratory errors, they look carefully at the P&Ps the lab had in place at the time of the error and consider questions such as:
"Was there a general culture that focused on speed or quantity rather than accuracy and quality?
Who reviewed the results? Were they qualified clinicians, pathologists, or other scientists?
What QA/QC reports were pulled and how often?
Was equipment properly maintained and used correctly by properly trained personnel?
Were reagents, assays, and any other materials used maintained properly (eg, stored at appropriate temperatures, etc) and within expiration limits?
Were specimens transported and processed in a timely manner?
Were specimens stored correctly?
Were specimens and computer entries identified properly?
Were all P&Ps followed?
Were results reported promptly, appropriately, and to the correct people?
Was any information in the record or equipment used changed after the fact?
This last point is one of the most important. Nothing should ever be changed after the fact because courts may then instruct juries to infer that the lost, altered, or damaged evidence was unfavorable to the party who executed the altering.

Conclusion
In an effort to avert risk, laboratorians should remain informed about all current standards and regulations, as well as in-house P&Ps. They should challenge antiquated practices and methodologies and suggest that outdated equipment be replaced with newer, more reliable technology. Further, laboratories should maintain detailed records regarding how, when, and by whom specimens and test results are handled. To avert charges of failing to communicate a lab report or results to an ordering physician, keep copies of certified mail receipts and fax transmission sheets, or make a simple follow-up phone call confirming delivery and enter the call into a log. Above all, laboratories should maintain an air of vigilance, as a high level of comfort can be a lab's worst enemy.

References
Bleiler v Bodnar, 65 NY2d 65 (1985).
Spiegel v Goldfarb, 66 AD3d 873 (2 Dept. 2009).
Price v Benedict Community Health Center, Inc, 1998 WL 743707 (N.D.N.Y., 1998).
Calvin v Schlossman, 74 AD2d 265 (1 Dept. 1980).
Grossbaum v Genesis Genetics Institute, LLC, 2011 US Dist. LEXIS 62180 (D.N.J., 2011) (a New Jersey case applying New York law).
Jorge v New York City Health and Hospitals Corp, 79 NY2d 905 (1992).
Weiner v Lenox Hill Hospital, 88 NY2d 784 (1996).
Rodriguez v Saal, 43 AD3d 272 (1 Dept. 2007).
Yaniv v Taub, 256 AD2d 273 (1 Dept. 1998).
---

Regina M. Vakser, LLM, is a partner of the firm McBreen & Kopko in Jericho, New York, and is a co-chair of the firm's International Practice Group. She has been admitted to practice law in the State of New York since 1998. Ms. Vakser's primary areas of practice include international commercial law and commercial litigation. Ms. Vakser was one of the attorneys representing Mr. and Mrs. Spiegel on appeal in Spiegel v Goldfarb, 66 AD3d 873 (2 Dept. 2009). The Appellate Division reversed the decision of the Supreme Court and found for the plaintiffs—that the actions of the laboratory constituted medical malpractice, as opposed to ordinary negligence.
Like what you've read? Please log in or create a free account to enjoy more of what www.medlabmag.com has to offer.
Current Issue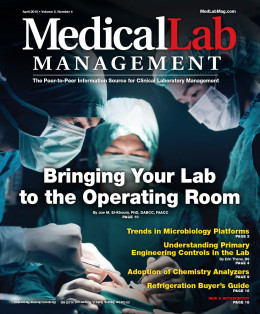 Subscribe to our Email Newsletters!
In The Loop!
Digital Edition
Special Announcements