The Boon of Liquid Biopsies in Genomic Cancer Care
June 2017 - Vol. 6 No. 5
- Page #6
Article Category:
Q&A with Pravin J. Mishra, PhD
Director, Research and Development Center
Intermountain Precision Genomics
Intermountain Healthcare
MedicalLab Management: What are your laboratory's therapeutic initiatives and goals, including the use of next generation sequencing?
Pravin Mishra: Intermountain Healthcare is internationally recognized as a highly regarded health care system, and in perpetuating this reputation, Intermountain initiated a precision medicine program to provide our patients with individualized cancer treatment. In order to deliver novel insights into the biology of disease, identify de novo targets, and benefit patients, our laboratory is motivated to interrogate new methodologies and technologies incorporating a bench-to-bedside approach (ie, research to clinic).
To read the full article, please log in or register.
Current Issue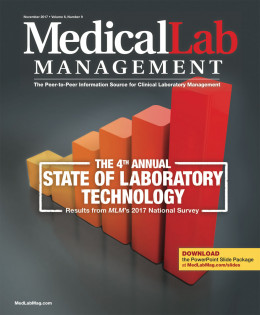 Subscribe to our Email Newsletters!
In The Loop!
Digital Edition
Special Announcements