March 2019
HIV Combo Test
By: Ortho Clinical Diagnostics
The VITROS Immunodiagnostic Products HIV Combo Reagent Pack and Calibrator (VITROS HIV Combo test) from Ortho Clinical Diagnostics has received approval from the US FDA for use on Ortho's VITROS ECi/ECiQ Immunodiagnostic Systems. A fourth-generation test, VITROS HIV Combo detects both HIV-1 and HIV-2 antibodies (Ab), and the p24 antigen (Ag). By detecting the antigen itself, rather than only the antibodies to the antigen, the VITROS HIV Combo detects HIV-1 acute infection earlier than previous generations of tests. The test is enhanced by a combination of proprietary technologies and benefits only available on Ortho's VITROS Systems, including MicroWell technology and INTELLICHECK Technology, which provide laboratories with accuracy in results.
Ortho Clinical Diagnostics
Recent Popular Articles
Current Issue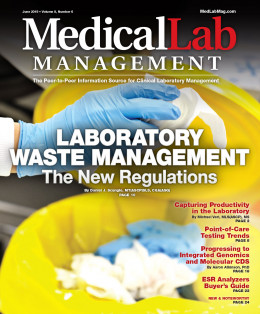 Subscribe to our Email Newsletters!
In The Loop!
Digital Edition
Special Announcements